Overview of the SFPA

Organisational structure of the SFPA (relating to seafood safety)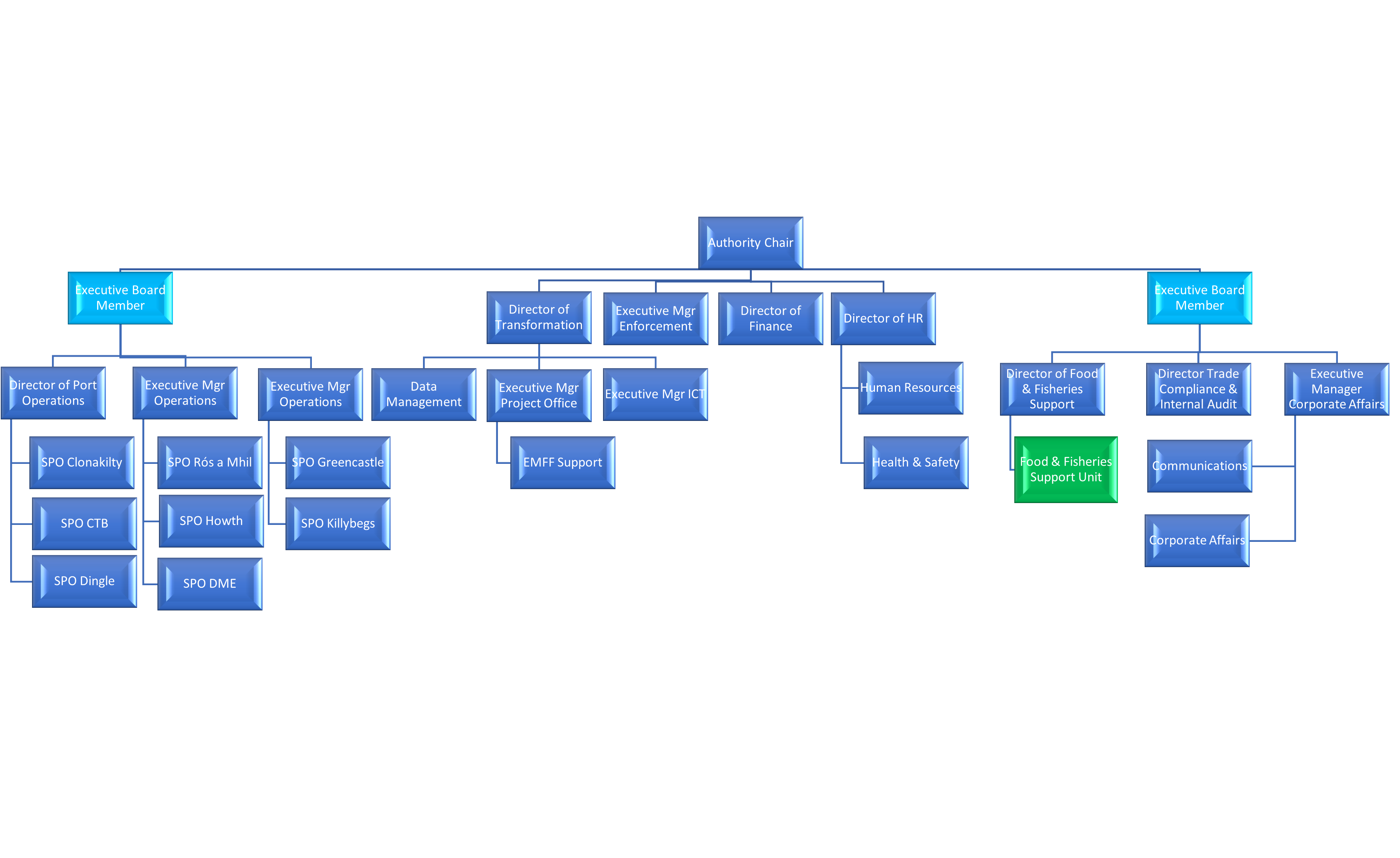 The Sea Fisheries Protection Agency (SFPA) was established under the provisions of the Sea-Fisheries and Maritime Jurisdiction Act 2006 (SFMJ Act), mandated to enforce national and EU Regulations on sea-fisheries conservation and seafood safety. Empowered by Section 44(4) of the SFMJ Act , 2006 the SFPA enforces food safety law in place of the Minister under Food Safety Authority of Ireland Act 1998 (FSAI Act) Subject to the SFMJ Act 2006, the SFPA exercises its functions independently.
The SFPA is an official agency of the FSAI, with a service contract agreement outlining the agreed level and standard of seafood safety activity that the SFPA performs as a competent authority. Based in Clonakilty, Co. Cork, the SFPA's headquarters houses a specialised Food Safety Team within its Food and Fisheries Support Unit (FFSU). The FFSU is led by the Director of Food & Fisheries Support. This unit facilitates and coordinates the food safety regulation activities of the SFPA. The SFPA has teams of Sea-Fisheries Protection Officers (SFPOs) and administration staff based in port offices along the coast. Each port office is managed by a Senior Port Officer (SPO).
Areas of Official Controls, as defined by Article 1(2) Regulation (EU) 2017/625
​​​​​Food production, processing, distribution
Food contact materials
Animal by-products
Organic production & labelling
Delegation of Official Control Tasks
The SFPA do not delegate any official control tasks to delegated bodies in accordance with Article 28 of Regulation (EU) 2017/625.
Scope of responsibility of the SFPA for the official control of food
The SFPA oversees and enforces national and EU laws governing health conditions for the production and placing on the market of fish, shellfish and fisheries products. The SFPA conducts official controls of seafood from production areas to distribution, excluding retail establishments. The legislation enforced by the SFPA includes general food law, official controls, food hygiene, import control, labelling, presentation and advertising of foodstuffs, additives and flavourings, contaminants, residues of veterinary medicines, animal remedies, microbiological criteria, marine biotoxins, zoonoses and food contact materials. The SFPA is responsible for approving establishments that handle fish and shellfish under national legislation implementing Regulation (EC) No 852/2004. The SFPA maintain a national register of approved establishments where they carry out official controls. DAFM is responsible for official controls of live fish imports. SFPA can provide technical advice to DAFM BCP on the sampling plan for seafood imports.
Offical Controls
Risk Categorisation & Frequency
In accordance with EU Regulation 2017/625, the SFPA prioritises official controls based on risk assessment and have a documented risk assessment procedure. The Code of Practice outlines how an approved establishment including freezer and factory vessels may be categorised according to risk and how the appropriate frequency of official control inspections for that establishment may be determined. The risk categories are High, Medium or Low. Risk assessments must be reviewed annually, or more often if necessary.
Microbiological sampling plans are maintained for all classified shellfish production areas. These plans record the species, sample location code, position of sampling points and frequency of sampling. The sampling plans form the basis of the microbiological monitoring programme of classified production areas and the results are used in the annual review of classifications. Further information on sampling frequency is available in the Code of Practice for the Classification and Microbiological Monitoring of Bivalve Mollusc Production Areas in Ireland.
Methods of Offical Controls
The SFPA conducts official controls on a risk-basis in accordance with their annual Food Safety Control Plan. This plan aligns with legislative requirements, their service contract with the FSAI, and SFPA sampling plans. It encompasses control methods and techniques outlined in Article 14 of Regulation (EU) 2017/625, including verification, inspection, audit, sampling and analysis, monitoring and surveillance. The SFPA Food Safety Control Plan provides an overview of where SFPA food safety official controls occur, the types types of official controls and frequency.
Recording of Offical Controls
When conducting Official Control Inspections/audits, SFPOs typically utilise checklists &/or inspection reports to document outcomes. For official control samples, SFPOs complete sample request forms. These forms are submitted to the laboratory, and a copy is retained by the SFPO for port office files. The resulting lab cert is reviewed and, if follow up is required, this is actioned and documented. Inspections/Audits and sampling activities, along with their outcomes, are recorded by SFPOs on a web portal OAPI (Official Agency Premise Inspection) which is run by FSAI.
The SFPA Food Safety Control Plan mandates entering all records onto OAPI within 11 days after each month's end. Both SFPA and FSAI have access to OAPI data. SFPA Dashboard Reports, using a traffic light colour coding system, are compiled by the FSAI Data team based on SFPOs' OAPI input. These reports highlight how recorded inspections align with targets. These dashboards are available to SFPOs on SFPA Connect. Auditors, including European Commission Sante F auditors, may review entries on OAPI and inspection reports, completed sample request forms, other documentation, if required during audits.
National Control Plan
The Food Safety Control Plan
The SFPA's Food Safety Control Plan is produced by the Food and Fisheries Support Unit (FFSU) and authorised and approved by the Authority Members. This plan provides serves as a foundational framework the SFPAs annual food safety work. The Control Plan is available on the SFPA intranet. The Food Safety Control Plan is a rolling document, i.e. it is reviewed and updated at least annually but can be updated as and when required during a given year.
Specific Control Plans/Surveys
The SFPA is involved with the following specific National Control Plans/Surveys;
National Residues Control Plan (fin-fish aquaculture samples)
Sulphur Dioxide-Sulphite analysis of prawns and shrimps as part of an Annual FSAI Cross-Agency Survey on Sulphur Dioxide-Sulphite.
Other control programmes
Other control programmes that the SFPA are involved in include;
Microbiological Monitoring of Bivalve Mollusc Production Areas

(Classification sampling)
Heavy Metal analysis of fishery products and live bivalve molluscs
Tin in canned fishery products
Polycyclic Aromatic Hydrocarbons (PAHs) in smoked fish/fishery productsand live bivalve molluscs
Carbon monoxide (CO) analysis in tuna and swordfish
Nitrates and Nitrites in tuna
Perfluoroalkylated Substances (PFAS) in fishery products and live bivalve molluscs
Fin-fish speciation (using DNA analysis)
Radioactive Isotopes Caesium-137 in fishery products and live bivalve molluscs.
All the above are covered in the SFPA's Food Safety Control Plan. Samples are submitted for analysis as per programmes agreed with the labs.
Resources and Facilities
Staffing resources
The SFPA's official control of foodstuffs is governed by a service contract with the FSAI, detailing staffing. Annual staffing figures are reported in an annual report submitted to the FSAI. In 2022, 59 WTE positions were dedicated to food safety.
Laboratory resources
The SFPA uses Accredited Designated Official laboratories for the analysis of SFPA official control samples. These laboratories have been designed as official laboratories in line with Article 100(1) of Regulation (EU) 2017/625. Sampling materials are generally provided by laboratories in advance of sampling.
IT resources
The SFPA use the FSAI centralised official agency premises inspections (OAPI) database to record information regarding their official control responsibilities.
Other resources
The SFPA staff have access to
refrigeration & freezer facilities
storage facilities
equipment e.g. PPE, temperature probes, cool boxes & sampling boxes
Office facilities
SFPA headquarters (HQ) is in Clonakilty, Co. Cork.
Regional port offices are located around the coast as follows:
Castletownbere, Co. Cork
Dingle, Co. Kerry
Dunmore East, Co. Waterford
Greencastle, Co. Donegal
Howth, Co. Dublin
Killybegs, Co. Donegal
Ros a Mhíl, Co. Galway
Clonakilty Port, within SFPA HQ
The SFPA has access to other facilities/offices at:
Clogherhead Co.Louth
Galway City
Regulation (EU) 2017/625 (General Obligations)
Effectiveness and appropriateness of official controls
The SFPA has established a comprehensive framework of official controls, outlined in the Food Safety Control Plan. The plan ensures that all appropriate official controls in accordance with Regulation 625/2017 are carried out. The FSAI's data team provides SFPA Dashboard Reports on a regular basis, to reflect the work done and inputted into OAPI by SFPOs versus targets. Furthermore, more detailed OAPI Inspection Summaries are produced. These tools are provided to assist managers in monitoring and planning activities during the year. This information also assists in identifying where additional support may be needed to achieve targets and to identify other work that possibly impacts on delivery of the programmed work. Internal audits within the SFPA also help to ensure the effectiveness and appropriateness of official controls. All activities are undertaken impartially and are structured and managed to safeguard impartiality in accordance with Article 5 (1) of Regulation EU 2017/625.
Consistency in the delivery of official controls
To ensure consistency in the delivery of official controls, a comprehensive training programme is delivered to all new Sea Fisheries Protection Officers along with practical mentoring by experienced staff. Experienced staff also receive ongoing training throughout their career. In addition, the SFPA has a comprehensive suite of inspection checklists and guidance notes developed and updated in accordance with a documented control system.
Ensuring staff performing official controls are free from conflicts of interest
Section 57 of The SFMJ Act 2006 places an on-going, real time 'disclosure of interests' obligation on all Members of the Authority, members of staff of the Authority, consultants, advisors or other person engaged by the Authority in the event that they, or a connected relative has/have a beneficial interest in, or material to, any matter which falls to be considered by the Authority. In order to facilitate awareness of this ongoing obligation, the SFPA issues an annual reminder to all staff in relation to their Section 57 obligations. A disclosure should be made any time a conflict arises for any individual, a designated form exists for staff to complete when making a declaration of conflict of interest.
Access to adequate laboratory capacity
Dedicated staff members within the SFPA's FFSU liaise between the laboratories and SFPA Port Offices to ensure that SFPOs have access to adequate lab capacity. Annual Programmes are organised for each port office. Sample numbers and testing parameters are based on the number of Food Business Operators supervised by a particular port office and the business types. Where requirements for additional capacity are identified, FFSU staff liaise with SFPA offices, official laboratories and, if necessary, the FSAI, to ensure that capacity is developed. This can involve requesting that laboratories introduce new methods, where necessary.
Access to suitably qualified and experienced staff
The SFPA has a highly qualified inspectorate which enables official control staff to perform multi-faceted front-line roles in Seafood Safety. Minimum qualification required for inspectorate is a National Diploma Level 7 in a discipline relevant to the work of the SFPA for example qualifications or competency in marine, fisheries, food, environmental science, data, law enforcement. Staffs carrying out official controls come from a diverse background and qualifications. Current staff have extensive qualifications i.e. Diploma, Degree, Masters & PhD qualifications. New inspectorate following comprehensive induction training are mentored by experienced staff. Staff undergo regular training.
Access to adequate facilities and equipment
See 'Resources & Facilities' section.
Adequate legal powers to perform official controls
The SFPA has extensive legal powers to carry out official controls under the FSAI Act 1998, the SFMJ Act 2006 and SI 22/2020 European Union (Food and Feed Hygiene Regulations) 2020.
Ensure that food business operators cooperate with staff performing official controls
The SFPA promotes compliance with the relevant EU food legislation across the seafood chain. The SFPA has extensive enforcement powers under the SFMJ Act 2006, the FSAI 1998 and SI No 22/2020- European Union (Food and Feed Hygiene Regulations) 2020. The SFPA has a Food Safety Compliance and Enforcement Guidance Note. In the event of an operator not co-operating the appropriate enforcement is taken.
Relationships with other Competent Authorities
In accordance with their service contract with the FSAI, the SFPA shares responsibility for official controls with the Department of Agriculture, Food and Marine (DAFM) in the following areas:
Finfish aquaculture sites
Hygiene, animal remedies and animal by-products official controls on finfish farms are carried out by DAFM Veterinary Inspectors (VIs)
SFPA and DAFM work together to ensure the implementation of the regulations in finfish farms. Under this agreement:
DAFM VIs are responsible for routine inspections at the finfish farms,
DAFM VIs are responsible for follow-up investigations based on issues and/or non-compliances arising from routine inspections,
SFPA is responsible for follow–up investigations based on non-compliances arising from sampling under the national residues monitoring programme.
In the event of a non-compliance arising within the national residues monitoring programme, SFPA staff can use the SFPA's internal guidance note on Action to Take in the Case of a Non-Compliant Result within the Residues Monitoring Programme for Finfish Aquaculture in Ireland.
Official Controls of certain substances and residues thereof
Programmed, pre-planned surveillance and official controls in relation to finfish aquaculture sites are the responsibility of DAFM. The SFPA has responsibility for responding to non-conformances detected as part of the National Residues Control Plan (NRCP), where those non-conformances relate to fish or fishery products.
Animal by-products
DAFM holds the responsibility for approving, registering, and implementing animal by-product official controls at animal-by product plants in Ireland. DAFM, along with SFPA staff, jointly approve/register animal by-product operators (aquatic animals only). SFPA then conduct ongoing Official Controls at specified intervals, collaborating with DAFM, including addressing non-compliances. Official Control sampling is conducted as needed at these plants.
While DAFM handles enforcement under animal by-product laws, SFPA staff may assist in technical expertise, evidence, and follow-up on corrective and preventive actions if required at these plant types. It is agreed that as the SFPA have the local supervisory role, the business operator should contact and engage with the SFPA in the first instance, and the SFPA will subsequently liaise with DAFM. If DAFM needs to communicate with the business operator, it will be channelled through SFPA, ensuring clarity in each agency's roles and fairness with the business operator. Upon renewal due dates for approval or registration covered by this joint agreement, DAFM will proactively engage with SFPA, seeking recommendations for renewal and any desired changes to the Conditions of Approval.
Border control posts
The SFPA is the Competent Authority for public health conditions for fish and fishery products and illegal, unreported and unregulated fishing. DAFM is the competent authority for public and animal health conditions for animals and products of animal origin other than fish and fishery products and the competent authority for all controls and operate the Border Control Posts (BCPs).
DAFM VIs are responsible for the administration of the veterinary check regime for products of animal origin including fishery products. These checks, including labelling and traceability checks, occur at approved BCPs such as Dublin Port, Rosslare Port and Shannon Airport. The SFPA provides technical support to VIs at BCPs when required. Food and Fisheries Support Unit (FFSU) liaises with SFPA Port Offices for follow-up on imports arriving at SFPA supervised establishments.
The SFPA may provide technical assistance with DAFM sampling plans for imported seafood. The sampling programme covers a wide variety of parameters (Microbiological, Heavy Metals, and Residues) for analysis.
SFPA & the Marine Institute
The SFPA also plays a key role in Ireland's shellfish monitoring programme collaborating with the Marine Institute and the FSAI in accordance with documented procedures.
SFPA & Health Service Execuitve (HSE) & Local Authority Laboratories
SFPA utilises designated official laboratories run by the HSE and Cork County Council for the analysis of official control samples.
Communication
The SFPA have the following measures in place to ensure effective and efficient communication;
i) Within the competent authority
A dedicated Communications team to ensure effective and efficient communication within the Authority.
Intranet- an internal communications portal accessible to all staff
Internal newsletter
Weekly all staff meetings, Divisional and Cross Divisional
ii) With other competent authorities and the FSAI
 Quarterly FSAI /SFPA bilateral liaison meetings with SFPA Management and the Food Safety Unit
 Regional Workshops with Sea Port Officers and Sea Fishery Protection Officers
 Trilateral meetings with the SFPA, the FSAI and the Marine Institute
 Cross-agency meetings with other competent authorities
 Participation in the Molluscan Shellfish Safety Committee
 Working groups
 Collaboration in development of guidance documents
Semi-formal communication;
 Regular email contact
 Phone calls
Training
Ongoing training needs of staff are identified on an annual basis as part of Performance Management and Development System (PMDS) completed by all staff. Plans are implemented by the SFPA Central Headquarters. Training plans are a mix of internal training and external training. A comprehensive training programme is in place for all newly recruited inspectorate. This training is a blend of training delivered by SFPA staff an external training providers. The training also involves mentoring in ports and completion of practical tasks.The SFPA delivers a series of "Fish Bite" training webinars internally each year. These are short virtual training webinars on a specific topic.
The FSAI delivers Cross-Agency Training which SFPA inspectorate attend. SFPOs are also encouraged to undertake e-learning courses provided by the FSAI through the Safeynet website for official agency staff.
SFPA staff members regularly attend face to face European Commission funded training courses - Better Training for Safer Food (BTSF). SFPOs are also encouraged to attend any relevant webinars, for example, webinars run by the Safefood Knowledge Network. All training records are maintained centrally. Staff members are asked to complete evaluation forms upon completion of training. Returned forms are reviewed and retained centrally.
Documented Procedures
Availability of documented procedures to SFPA Staff
The SFPA has comprehensive documented procedures in place to assist staff in carrying out all official control activities. Documents include Guidance notes, Standard Operating Procedure, Checklists, Inspection Report Templates and Enforcement templates.
The SFPA has an Intranet called SFPA Connect, which is an internal communication portal where all relevant up-to- date documented procedures are accessible to staff performing official controls and to staff in SFPA HQ. Furthermore, the SFPA Food Safety Control Plan outlines the various official control types and provides hyperlinks to the relevant documented procedures.
Availabilty of documented procedures to the Central Competent Authority
The SFPA has formal Bilateral Meetings with the FSAI on a quarterly basis. The FSAI is informed of new documents and updated version of existing documents and provided with copies if requested.
Availability of documented procedures to the organisations involved in auditing and the European Commission
Prior to and during the audit, documented procedures are made available to the auditors. Documentation is supplied to the Commission as requested, for example, in advance of Santé F audits.
Reviewing & updating procedures
A document control system is in place to ensure that all documents have a unique document code, version number and issue date. Where a need to update a document is identified, e.g. due to a legislative change, there is a specific procedure in place for the modification of documents and approval of same by FFSU management prior to issue. The reason for the modification is documented as is the change made. The updated document is uploaded on SFPA Connect. SFPA staff members are then informed of the updated version by email and through announcements on SFPA Connect.
Contingency Planning
The SFPA carries out contingency planning in accordance with the requirements of the service contract with the FSAI. Relevant central contact points are given to the FSAI for emergency and out of hours contact for emergency and crisis situations. SFPA staff have participated in Cross Agency Training on crisis management.
Audit
Internal Audit
The SFPA has a dedicated internal audit division which implements an annual programme of internal audits. Further information is available on their website.
External Audit
The SFPA has a service level agreement with the FSAI and is subject to audits by the FSAI. In addition, the SFPA is subject to audits by the Commission (Santé F audits), and Third countries.
Food Fraud
Details on potential food fraud and mitigating measures are outlined in the SFPA's Food Safety Control Plan.
Service Level Agreements & Memoranda of Understanding with Other Organisations
Memoranda of Understanding between the VMAAT - Vet Meds, AMR, ABPs and TSEs Division of the Department of Agriculture, Food and the Marine And The Sea Fisheries Protection Authority - This MOU is intended to formalise mutual co-operation between the SAT Division of DAFM and the SFPA with a view to ensuring effective implementation of animal by-products legislation including Regulation (EC) No. 1069/2009
as amended and Implementing Regulation (EC) No. 142/2011 as amended along with National legislation S.I. 187 of 2014 specifically in relation to Cat 3 fish rendering plants, fish composting facilities ,fish plants supplying pet food, PAP/fishmeal storage plantand other establishments involved in similar processes as required.
SFPA has service contracts in place with designated official laboratories used for microbiological analysis of official control samples.