At the FSAI, championing staff is a core part of our culture. They are the driving force that enable us to achieve our vision of 'safe and trustworthy food for everyone'.
In return, we commit to providing a stimulating and rewarding work environment. We strive to provide opportunities for learning and personal growth whilst working together to best deliver a strong regulatory service for the food sector.
Our vision, mission and strategy define what FSAI is about and where we are going. Our culture and values guide how we achieve and deliver on these. You will be part of a small team, but work collaboratively with colleagues across FSAI and with external stakeholders. Building strong and rewarding relationships is important to us, we all have our strengths, skills and ideas to bring to the table. When we work together, we are more likely to create something greater than one person can do alone.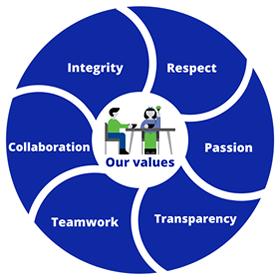 You will have a great opportunity to use your specialist knowledge and skills whilst enhancing and expanding them through working on multidisciplinary projects and teams, developing networks and continuing your professional development.
Working with us brings an excellent range of benefits with a commitment to achieving work-life balance and promoting the health and well-being of our staff.