What is the Safe Catering Pack?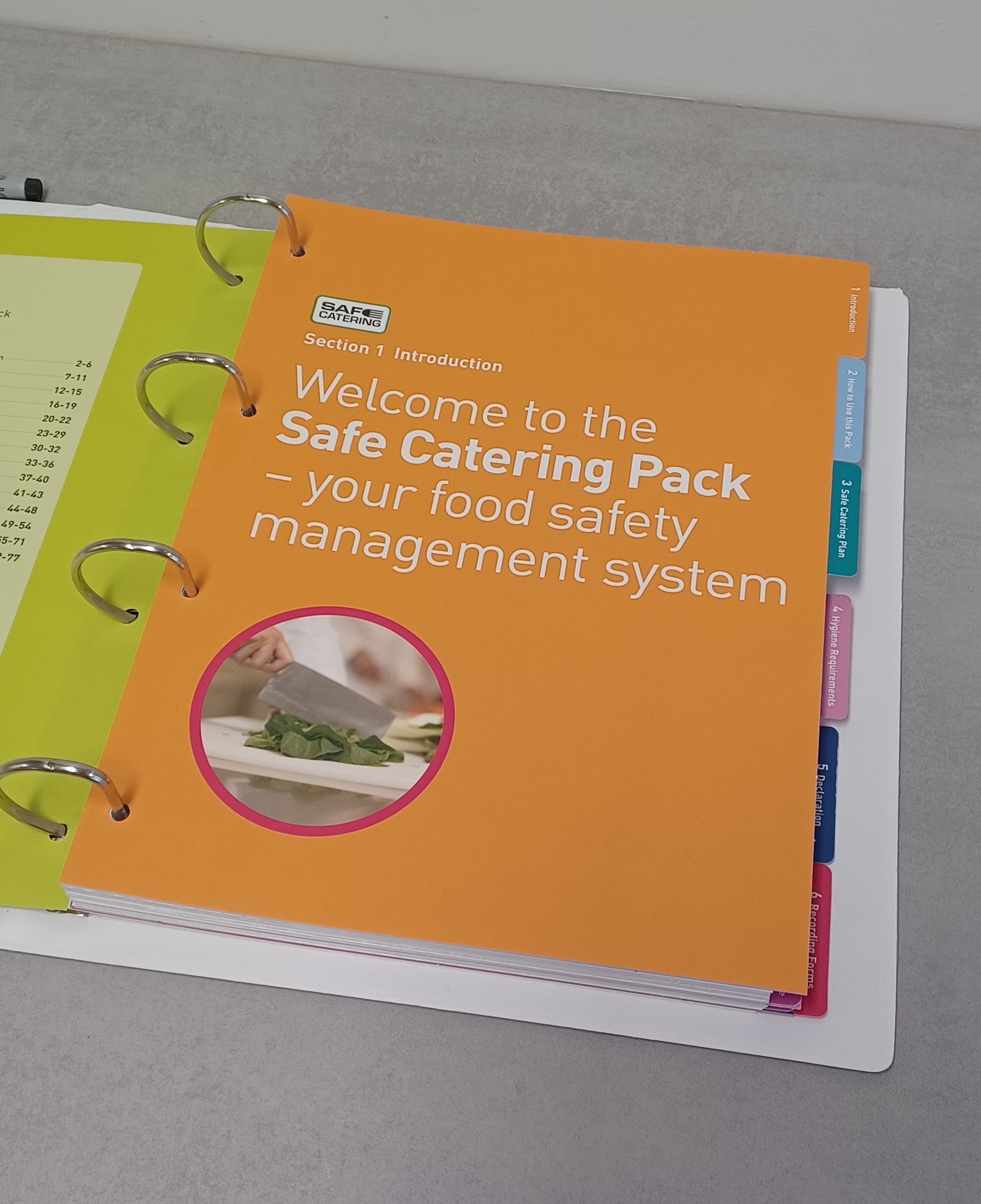 The Safe Catering Pack is designed for caterers as a practical, easy-to-use, food safety management system.
Using the pack will help you to:
produce safe food
comply with food hygiene law
train staff
protect your business' reputation
Who is the pack for?
The pack was designed for caterers but it may also be used by other food businesses. It is ideal for businesses that have not yet developed their own food safety management system, but may also be used by businesses to improve existing systems.
What does the pack contain?
The pack contains a safe catering plan that you complete for your business. This will help you:
identify things that could go wrong at all stages of your food operation
put controls in place to stop it going wrong
know what to do if it does go wrong
It also contains:
hygiene requirements that must be met
a Declaration of Completion and Review that must be filled in and signed to show that you are meeting your legal requirement to have a food safety management system in place
recording forms and checklists to help you to record your checks, training and allergen management.
2020 updates to the pack
If you have the older version, you can download the new sections below to add into your pack.
Two new sections
Allergens - how to declare and manage allergens
Acrylamide - how to control acrylamide levels. Acrylamide is a chemical that naturally forms in baked or fried starchy foods, e.g., chips and bread
Download the Acrylamide Section
Download Section 3 Page 1 (Premises Details) to see how the new sections fit into the pack.
Example of an 'Other Step'
The 'Other Step' section is for when a step in a food business is not covered by the steps set out in the pack. An example of this is making sushi. 🍣.
Download the Other Step example
Other changes to the pack
Some small but significant changes were made to other sections.
Check the other changes that were made to the pack
The cost of the pack is €100. This includes postage. The pack is shipped only to addresses in the Republic of Ireland.
Individual recording forms can be downloaded free of charge or photocopied from the recording forms in Section 6 of the pack.
Please contact our Advice Line at info@fsai.ie if you wish to pay by bank transfer.